Missed the premiere on June 11th? Want to see it again?
Never fear, What I See is now available on demand.
 A collaboration between the Oakland Ballet and Gary Morgan of the Turf Feinz, this short dance film explores racisim from three perspectives. Directed by Yoram Savion and edited by Ben Tarquin featuring the music of YoungStir (Jahziel Pabón-Ramos) and the poetry of Nicia De'Lovely.
Click here for details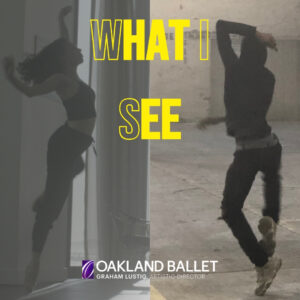 As a non-profit organization, Oakland Ballet Company looks to the community to help ensure we are keeping the art of dance accessible, relevant, and exciting. 
Ticket revenue contributes only a fraction of the cost to produce a show.
The rest comes from you!