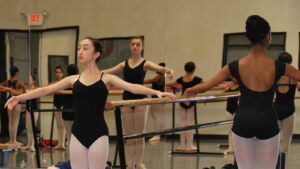 It's Spring and as we all look forward to in-person summer programs, fingers crossed. Now is a good time to clean up our class habits. To improve you want to glean the most amount of benefit from the class as possible. Here are some tips to help you do just that.
Take from a teacher you trust
You have to be able to trust your teachers. Study from them because you believe they have knowledge that you need. Not a blind trust to believe anything they say but a trust that helps you to take that first step even when you don't understand why.
2. Do everything the way it is given
This is a matter of discipline and respect. This is also why we have teachers. They push us to the limit in a good way. If you aren't willing to do what is given you should find a different teacher.
3. Surrender to the plan of the teacher
This comes back to trust. A good teacher will plan out their class to prepare you for the things to come. If you adjust combinations at the barre, you may not be ready for what is coming in center. You come to a teacher to receive the benefit of their knowledge and experience, so let them give it to you.
4. Stay until the end
Teachers push us and we push ourselves. Stay to the end of class no matter how much you may want to duck out after pirouettes. That discipline and determination will serve you well plus you will always be in shape.
5. Learn from those around you
Watch and learn. Identify the dancers you admire. See the way they take class, how they work. Stand behind them at barre and try to absorb their rhythms and qualities. If you are trying to work on your jump, go across the floor with someone who has a great jump and try to keep up with them. Listen to everyone's corrections, not just yours. At the very least it is a good reminder. Don't just work hard, work smart.
6. Engage your brain
Ballet is not only physical, it's intellectual. Don't expect to be told everything. Develop a curiosity for movement. Keep up with the details. A good teacher will give something each class that challenges your brain. Don't let that opportunity pass you by.
7. Work hard
The study of dance is riddled with setbacks and frustrations. Learning is not always fun but it's rewarding. Class isn't the place to be beautiful, it's where we practice. Don't be afraid of looking bad or making mistakes. Don't allow yourself to give up when it isn't easy or you feel tired. Those are the moments when you can gain so much.
8. Focus on improving a little each day
Rome wasn't built in a day. Focus on small goals. Perhaps you are working on placement. Try to keep your placement a little longer in the barre each day. Then carry that into the center. Soon you will be keeping it all through class.
9. Dance with presence and purpose
Be present in the class and focus on the work at hand. Take a break from life's worries and problems. That single mindedness will create a focus that is razor sharp.
10. Have fun
What could possibly be more fun that flying around the room in coupe jetes, or pique turns. Moving your body through space is exciting so relish it.
Class is a fundamental aspect of a dancer's life. We start everyday with plies, the same as all dancers throughout history. Use it to ground yourself in the work. We are ultimately responsible for the development of our own technique. Remember and apply the corrections you receive, stay hungry for the things you are working on, feel proud of the things you have accomplished, keep an open mind, a sense of humor, and the love of a good challenge and you will be getting the most from class.