"Oakland-esque" Spring Gala 2014
OBC's 2014 Spring Repertory Season started in style on May 3 with our annual Gala fundraiser hosted by Cheryl Jennings, ABC7 news anchor. The elegant evening including a gourmet dinner and preview performances of spring repertory production, "Oakland-esque," at the Bellevue Club in Oakland.
Thanks to everyone that attended. Your support helps fund our season performances and "Discover Dance" educational outreach program.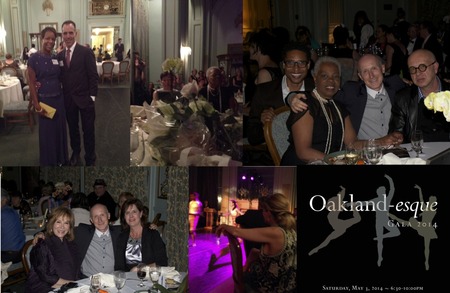 If you were unable to attend this year's gala event, we have several ways in which you can still participate!
Be a Star: Two additional Cameo Roles are available in the December 2014 production of Graham Lustig's "The Nutcracker." Don't miss your chance to perform on stage at Oakland's beautiful Paramount Theatre with the artists of Oakland Ballet Company. Match the winning bid of $700 from the Gala's live auction event, secure your spot as a cast member and support OBC, click here.
Make a Gift: In 2015, OBC will celebrate its 50th Anniversary! Help support performances and events surrounding the celebration of this landmark occasion by contributing to our 50th Anniversary Fund. We have $35,500 to go to reach our goal of $50,000. To make your contribution to this fund, click here.
For more photos from the 2014 Spring Gala, click here.
Save the date – next year's Spring Gala is scheduled for May 2, 2015 at the Bellevue Club. More details will be provided in February 2015.
Thank you to East Bay Sotheby's International for sponsoring this event!
Thank you to our GALA HONORARY COMMITTEE:
MAYOR JEAN QUAN, OAKLAND
MAYOR JAC ASHER, EMERYVILLE
VICE MAYOR RUTH ATKIN, EMERYVILLE
DOMINICA C. ANDERSON, ESQ.
FREDDIE AVNER
SUNNY BOSTRUM
KEVIN BROWN
BARBARA DICKINSON
MATTHEW DIXON, MD
JOYCE GORDON
JUDGE JOSEPH GRUBER
WILLIAM HYNES
MAJA KUNZI
LISA MAGNANI
JOHN MARDIKIAN
MICHAEL MCAFEE, ED.D.
JOHN PROTOPAPPAS
GLORIA TAYLOR
ANIAN TUNNEY